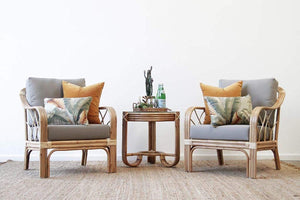 IRA Furniture
IRA Chairs for Living Rooms - Decent Vintage
Regular price
Rs. 16,956.00
Sale price
Rs. 25,000.00
IRA Chairs for Living Rooms - 2 Chair  (Table not included - it will cost extra)
Seating Cushions are Included and throw cushions are not included. Seating Cushions Color may very depending on stock, For specific requirement or for customization contact us after placing order.
Measure (In mm): 755mm wide x 840 deep x 830 high ; Colour: Natural
This Armchair would be perfect for that lonely corner! Suitable for use on a covered outdoor area.
These chairs are in Natural condition, made from rattan with weathering present. They're not perfect which adds to the character!
The table & other accessories are not Included.
---
More from this collection