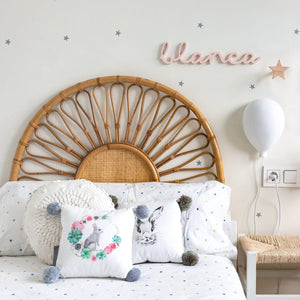 IRA Furniture
IRA Cane Headboard For Bed
Regular price
Rs. 16,992.00
Sale price
Rs. 20,565.00
It is handcrafted from natural teak wood (cane/ rattan).You can get best headboard for your Bed, giving the bed a gentle yet eye-catching expression. Headboard is very light in weight. You can mount the headboard on the wall above the bed at your desired height. The Piece of furniture give your room stylish and attractive look. We also do customisation of order according to customers demands.
Size - width 3 feet
Customization - For customized size please call us.
If you're in search of a unique and customizable headboard option for your bed, a cane headboard may be just what you need. These headboards offer a natural and sophisticated look, and can be tailored to your preferences. With the ability to customize the design, size, and color, you can create a cane headboard that perfectly complements your bedroom decor. The use of high-quality cane materials also ensures durability and longevity. So, if you want a headboard that is both stylish and adaptable, consider a cane headboard that can be customized as per your requirement.
---
More from this collection